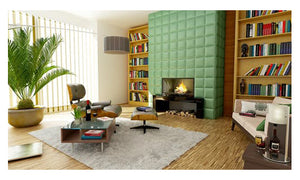 Decorate With Unique Vintage Home Décor
Have you not felt at home in your own house?
Do you want to change your interior home decor design but you don't know where to start? Let me tell you why you should be decorating your home with vintage items.

With interior home decor styles in constant change, it is almost impossible to keep up with the latest fads and styles and which home decor is still in fashion, but one thing that would never be out stye is Vintage Home Decor. From a wide range of variables such as Vintage Furniture, Vintage Lighting, Vintage Wall Art, Vintage Collectibles, Vintage Barware, and so mush more. Many of these vintage home décor items are aged but yet timeless. It is not a question of why to use vintage home decor but, why not to use them.


Vintage items will always give your home familiar surroundings while making your home decor unique. They will blend well with other interior decor creating an eclectic style which is all about the coming together of styles, textures, and contrasting colors to create a cohesive space whether it's part of the kitchen, bedroom, or living room decor.

They say good things don't come cheap, well Vintage Home Decor items is one that defy all odds. Vintage Items are budget-friendly and come out at affordable rates to customers without sacrificing quality. Quality home furnishing and vintage decor items are not always that expensive as they usually come at a very reasonable prices that may even become an investment. Vintage home furnishings have become even more popular in recent years making some vintage items more valuable. It is not uncommon for the value of a Vintage item to increase with time. Vintage accent pieces can also give a classic Mid-century modern flair, that will give your home an awesome focal point in any room.

Have you ever been in that awkward situation when you discovered that the coffee shop you get you're morning coffee had changed their Table or Chairs to the exact one you use in your Home? Yes, knowing what items to decorate your home with or how to decorate your home can be tricky but with vintage items, authentic decoration is guaranteed.

Vintage Décor items offers more than just a timeless design; it gives unique and credible style to your home that make you relive an era of the world thought to be passed. It also gives a sense of identity and lets you enjoy nostalgia moments every time you walk into your home.

Vintage home decor items are versatile, comfortable, exceptional even royal. The beauty is second to none. And because of that always consider them in your interior home design.

What are you waiting for?
Get your affordable vintage Decor items now and decorate your house into a home today.
---