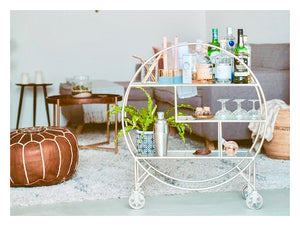 Decorating with Unique Statement Pieces
Every house should have at least one statement piece. The bold and eye-catching item can anchor a room and provide a style guide for the look you want to create in the space. It's also an opportunity to showcase your personality.                                                                                                       
A statement piece can be anything from a piece of furniture to wall art or even lighting fixtures. The piece that you choose should bring character to the room and separate it from every other space in the house. 
How to choose your statement piece
When picking a statement piece for your house, you first have to decide what part of the room you want to stick out. Some people choose a patterned wallpaper or bold color scheme, others go with an ornate mirror.
If you want to really stand out, however, you should go with a truly unique statement piece that's a little wild. Vintage leather rhino footstools are the perfect example of thinking outside the box. This is the type of unexpected statement piece that will bring any room to life and make guests pause in awe as they enter the space. With just these footstools you can create a warm, inviting aesthetic while showcasing style and personality at the same time. 
 Age is another aspect to keep in mind when choosing your unique statement piece. For instance, vintage leather ages beautifully by developing a rich patina. As the piece is exposed to oils from people's hands and natural wear, a unique shading appears on the surface. This means that even if someone else has leather footstools, they still won't be exactly like yours because the patina will be different. 
Ultimately, the key to choosing your unique statement piece is to pick something you love and that will wow people as they enter the room. If you keep that in mind, you're sure to choose an extraordinary piece for your space. 
---